Loya Insurance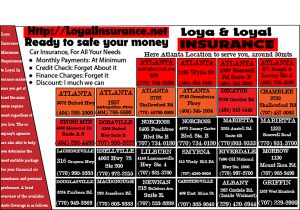 Auto insurance is obligatory in most states in the U.S. and Loya Insurance is a very suitable option. Everyone who drives a car has to own an insurance policy as proof of financial responsibility. In the past, most of the auto insurance companies did not sell directly to consumers. Nowadays many major insurers offer an online platform with which people can ask for a quote and purchase the insurance via Internet.
This kind of modernization eliminates the needs for an agent or any third-party services. The new buy-and-sell model is right to improve customer experience, but some people still prefer the old-fashioned method. Loya Insurance company offers both models, allowing all types of consumers to get the coverage in a desirable way.
More than 360 Agencies are Connected to Loya Insurance
Besides providing online quote service, Loya Insurance has more than 360 offices across the country. Most of the agencies are in California, Colorado, Illinois, New Mexico, Nevada, and Texas. One of the most remarkable things about this insurer is that the agencies are in public places where most people visit on a regular base such as grocery stores, supermarkets, street corners, office buildings, and shopping centers. Though you can also find Young America Insurance in those same places.
It allows potential consumers to have direct communication with agents in almost all areas within the company's range. The company's advertising campaigns also use conventional media including radio, newspapers, yellow pages, billboards, and television.
Personal Injury Protection with Loya Insurance is a Well-known Feature
Types of auto coverage available from the company include liability and personal injury protection. There is also optional coverage such as MedPay, Collision, Comprehensive, and Uninsured Motorist. Every state has different regulations concerning auto insurance. To comply with the rules, you have to purchase at least the mandatory coverage.
Loya Insurance Minimum Requirements
Loyal Insurance makes sure you get at least the minimum requirement regardless of where you live. The company's agencies can also help you determine the most suitable package for your financial circumstance and personal preference. A brief overview of the available Auto Coverage is as follows.
Liability Coverage
The most important coverage is the liability, and it is also mandatory in most states. Liability coverage provides financial protection for the policyholder in the event of an accident in which the policyholder is at fault. It comes in two different types including:
Bodily Injury:

if you are at fault in an accident, you are responsible for compensating the injured party. Bodily Injury Coverage covers any medical cost required to treat the injuries up to the limit stated in the insurance policy. If the value exceeds the given limit, you have to pay out of your pocket. It is advisable to opt for a higher limit to minimize expenses after an accident.

Property Damage Liability

: it is the same as a bodily injury, except the coverage to repair or replace the other party's vehicle. In a car accident where you are liable, you have to pay the cost of repairing damages to the other party's vehicle, and it does not cover damages to your car even when you are not at fault.
PIP (Personal Injury Protection)
It can be compulsory or elective, depending on where you live. Loyal Insurance offers PIP to cover medical expenses to treat your injuries. If your passengers also suffer from injuries in the accident, PIP will also cover the medical cost. Personal Injury Protection applies regardless of who is at fault in an accident. The best thing about PIP is that it compensates for income loss due to the crash.
Medical Payments
Loya Insurance calls it MedPay. Unlike PIP, it only covers the medical cost for your injuries. When PIP reaches its limit, MedPay kicks in and covers the remaining cost. It is good coverage, but you may need to talk with your insurance agents concerning the possibility of omitting this coverage because you have separate health insurance. If your existing health insurance covers the medical cost to treat any disease or injuries, including accident-related cases, you may not need to purchase MedPay at all.
Vehicle Coverage
To cover damages to your car, Loya Insurance offers two types of optional coverage, including Collision and Comprehensive. Both of them cannot apply simultaneously, but each is applicable regardless of who is at fault in an accident.
Collision:

Any damages to your vehicle due to an accident or collision with another car or object are within the protection of Collision Coverage. With this coverage, the company will pay the cost of repair or replacement.

Comprehensive:

In case damages to your car result from non-collision or non-accident situations, the cost of repair and replacement is under the financial protection from Comprehensive Coverage. Insurance perils within the range of Comprehensive include theft, windstorms, vandalism, fire, falling objects, and contact with animals.
Loya Insurance Direct Repair Program
Many repair shops are under the Loyal Insurance Direct Repair Program. By fixing your car at one of those stores, you get immediate benefits that include a lifetime guarantee on repairs. Guarantee appeals for as long as you own the vehicle. Also, it applies to damages covered by one or more coverage in your policy. 
Damages are results of ordinary wear, and tear or improper maintenance are not eligible for the benefits. If your car needs to stay in the shop for a few days or more, the insurer allows the approved stores to provide rental arrangements.
Loya Insurance is Simply the Better Choice 
Another thing that makes Loyal Insurance (or Loyola Insurance) different from most insurers is the fact that the business does not use credit history or driving records to determine approval and premium rate. 
Even when you have a driving record full of tickets or a bad credit score, the company does not take those variables into account, so everyone has an equal chance of acquiring auto insurance regardless of financial conditions and driving habits.
These and other attributes make Loya Insurance the choice for thousands of new drivers each month. Now that you know all about Loya Insurance Company, it's time to start comparing rates. To get started with your free quote, just enter your zip code and fill out an online application. See how easy it is to save big bucks on the auto insurance coverage you need.
Related Posts:
Discover further information at Wikipedia regarding Loya insurance
---